What You Need to Know About the Materials Your Running Shoes are Made of
What You Need to Know About the Materials Your Running Shoes are Made of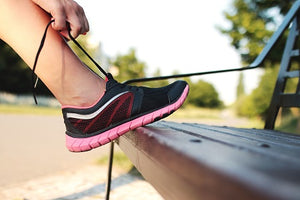 Running shoes are primarily meant to serve the purpose of protecting your feet while running. This includes providing comfort as well as a proper movement of your feet. Traditionally, all running shoes were made of the same materials. The story is different now though, with different brands having to differentiate their products in the market in new and innovative ways. Your choice of running shoes will depend on how you run, how often you run, and on what surface(s) you run. If you're a regular runner, you will need a pair of shoes made of highly durable materials that doesn't need to be cleaned too often. So, when choosing which pair to buy, it is important to keep the shoe materials in mind. Let's take a look at what running shoes are made of.
The different parts of the shoe and their materials
Running shoes are made up of three parts:
Upper – This part is what holds the feet in place. The materials used are usually:
Synthetic leather for durability,
Nylon mesh for breathability,
Reflective material for safety, and
TPU (thermoplastic urethane) – overlays of this material are placed over the mesh panels to improve support and durability.
Nowadays, running shoes with knitted uppers have become popular. They provide both support and flexibility with minimal material wastage.
Midsole – This is the part of the shoe between the upper and the outsole. It provides support and cushioning for the foot. There are usually two materials used in this part:
EVA (ethylene vinyl acetate) – it is a type of foam. Cushioning shoes use a single layer of EVA while shoes that are meant to provide specific flex patterns will have multiple densities of this material in the midsole. Dual-density EVA is used in shoes that are meant to provide motion control and increased support for runners who tend to exert too much pressure while landing.
TPU (thermoplastic urethane) – this material is more durable and stable than EVA but it is heavier. You will find this material being used in shoes meant for motion control. If your landings while running aren't very stable, choosing a shoe that has polyurethane in its midsole might be the sensible choice.
Outsole – This is basically the sole of the shoe. It has treads that provide traction and flex grooves for flexibility. Depending on your need, you can get shoes with thicker, more stable soles or soles with flex patterns that enhance the flexibility of your feet while running. Outsoles are usually made of two materials:
Carbon rubber – this material is highly durable and used mostly in the heel area. However, shoes meant for trail running will have soles that are made entirely of carbon rubber.
Blown rubber – it is lighter and more flexible than carbon rubber but not as durable. It provides more cushioning, so it is used in the forefoot area. Shoes meant for running on roads and other similar surfaces will usually have soles entirely made of blown rubber for increased comfort and reduced weight.