How skate shoes have penetrated every level of the footwear market
How skate shoes have penetrated every level of the footwear market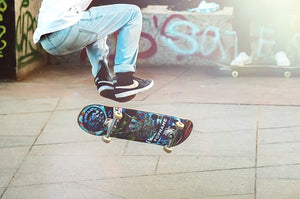 Skate shoe brands such as Vans have ruled the streets of late. Both in terms of the vast variety of consumer and sheer volume. Nowhere will you go and not see someone in a pair of old skool's or authentics, whether that be on your local high-street, kids playground or nightclub. But why is this? Well, skateboarding has steadily gained popularity since the boom of the 80's and it would seem that the clothes fashion and style associated with it have done the same.
This explains why despite the fact that teens involved with skateboarding have coined the new style as their own it has still gradually become THE accepted street attire in both skaters and non skaters alike, and it's largely unknown as to why. While all skate related clothing brands have become the norm for all age groups and background it's the shoes that particularly interest me. This is because of the different levels of fashion that they have made their way in to, from street style to runway.
The release of Dylan Rieder's 2013 self titled 'dylan' slip on shoe for Gravis marked a turning point in the relationship between skate shoes and fashion. And the affect hasn't slowed one bit even after his untimely death in October of 2016. The reason Dylan's pro shoe release was such a big deal was the design, which Dylan himself had a huge hand in creating.
His shoe was so different from any other skate shoe that had ever been released due to the likeness it had with a designer dress shoe. The inspiration behind this was drawn from Dylan's longstanding ties with the fashion world. He has appeared in many ad campaigns from high profile brands such as DKNY, in which he stood along side models Cara Delevigne and Jourdan Dunn as well as rapper A$AP Rocky.
Many skateboarders criticized Rieder and the release of 'the dylan' shoe caused a lot of controversy as to what a skate shoe should be. But this was to be expected. Rieder was well aware of this but continued to wear and produce fashionable shoes that blurred the lines between skateboarding and fashion, even when Gravis went under he was brought onto the HUF team and created 2 more signature shoes; one loafer style slip on, very similar to his first shoe for Gravis and a lace up in various leather styles. Ever since this release and even after his death he continues to be a huge influence on fashion and has gone down as one of the most influential skateboarders of all time.
Here he features in a short video documenting his thoughts on skateboarding and style, created by Sebastien Zanella and published by Desillusion magazine.
https://vimeo.com/channels/thisisdesillusion