Must-Have Shoes for the Winter
Must-Have Shoes for the Winter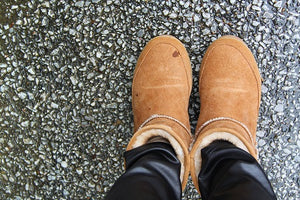 Winter wear is functionally about keeping warm and protecting ourselves from the cold weather, but doing it stylishly is where all the fun is. Coats and jackets aren't the only things to consider when trying to be fashionable in the cold season. A big part of winter fashion is the footwear, and there are so many styles to choose from! There's a few pairs of
winter shoes
that every woman should own in order to be prepared for the entire season, whether it's for a casual outing with friends or a dressy dinner party.  
Low-cut ankle boots – Ankle boots never go out of fashion and they are very versatile. You can wear ankle boots with skinny jeans, leggings, and dresses too. They can be casual and comfortable as well as stylish and ready for a party. Moreover, they're sure to keep your toes warm. Not only do they serve the function of protective and sturdy footwear, they also add style. Booties with chunky heels or stilettos can transform anything you wear from a regular outfit to a stylish one. You also have Chelsea boots which, frankly, are indispensable for any woman. They're comfortable, they look good and you can wear them with anything.
Lace-up ankle boots – These are more casual than dressy, but they can take your casual outfit style quotient up several notches. If you want to wear comfortable and warm shoes but still add some edge, these are the perfect pair of shoes. They look great with jeans and dresses. Investing in a solid pair of lace-up ankle boots is the most sensible thing you can do for your winter wardrobe.
Weather-proof boots – Shoes are meant to protect your feet and keep you warm, and it can be done without looking terrible. Nowadays, choices are not just limited to wellies or chunky snow boots. There are faux fur-lined, water-proof boots available to suit a variety of needs, from sporty and casual to elegant and stylish.
Platform shoes – Thick soles are a good way to keep dry and warm by preventing snow and slush from reaching your feet. Not only do they serve the function of creating physical distance between your feet and the wet ground below, platform heels look great. Whether they are chunky heeled booties or close-toed clogs, platform shoes bring the extra style to any outfit. They're also very comfortable, so you can walk around in them for hours and you'll still be able to rock them without your legs wanting to give out.
Trainers – Everyone's got to have a pair of these for use all through the year, regardless of the season. It doesn't have to be a drab and only functional pair though. Liven up your casual trainers game by investing in a good pair that comes with some style, like faux-fur lined high-tops or knit trainers or even a metal studded or metallic finish pair of kicks.